Archive ESL Europe Europe Counter-Strike: Global Offensive
CS:GO Mappool update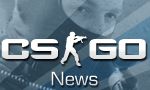 Today we are going to announce chances for our Counter-Strike: Global Offensive mappool which will be implemented within the next weeks until all our competitions are using it on October 10th 2013. This changes have been made in cooperation with several other organizations, we have included the official statement in this news with all information about the mappool update.
League Cooperation Statement
As a part of our collaboration between several organisations to unify the Counter-Strike: Global Offensive competition we have agreed on a mappool update. We would also like to announce that several other organisation who are not officially part of the collaboration have joined this agreement about the mappool.

The mappool will be based on five official valve versions plus two custom maps, so it will look as follows:
de_dust2, de_inferno, de_mirage, de_nuke, de_train, de_season & de_cache.

The changes will be made by the following leagues and organisations:

Immediately:
- ESL Pro Series Germany
- Copenhagen Games
- Slap Live
- Dreamhack*

On October 7th:
- ESL Pro Series France

On October 10th:
- RaidCall ESL Major Series One

On October 14th:
- Electronic Sports World Cup (ESWC)
- SLTV StarSeries
- Gaming.dk

*Dreamhack will only feature the five official valve versions, no custom maps.
Timeline for the new mappool
We will use the following timeline to update the mappool:

A-Series
, VERSUS and Ladders starting on September 30th 2013

Go4CS:GO
starting with #64 on October 6th 2013

ESL Pro Series France
on October 7th 2013

Next Season of
ESL Pro Series Germany

RaidCall EMS One Fall 2013
(Live Event Finals) on October 10th 2013
After we finished implementing the maps on October 10th 2013 the Counter-Strike: Global Offensive mappool will look as follows:

de_dust2

de_nuke

de_inferno

de_train

de_mirage

de_season

de_cache
ESL map collection on Steam
Everytime you start CS:GO the map versions are automatically being updated, if an update is available. There is no need of any manual downloads anymore. That is the reason why we recommend you to subscribe to our map collection.
How to for server owners
We suggest server owners to put the following command in the start parameter command line:
+host_workshop_collection 128253498
This way you won't have to worry about updating the maps anymore, as the latest versions - if available - are being updated automatically.
Become a Fan of ESL CS:GO and get all News on Facebook
Your


Admin Team
crtmN
, Sunday, 29/09/13 14:34


Information:
info write comment not allowed