Archive ESL Europe Europe Counter-Strike: Global Offensive
Ninjas in Pyjamas is the very first RaidCall EMS One Champion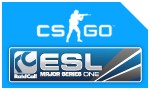 Once again Ninjas in Pyjamas proved their extraordinary class. They didn't lose a single map the entire weekend and even fnatic didn't stand the slightest chance in the grand final. Therefore Ninjas in Pyjamas is the legitimate winner of the first RaidCall EMS One Season in CS:GO.
RaidCall EMS One CS:GO Finals in Cologne
Thanks for tuning in to the first RaidCall EMS One. We will be back with the Summer Season 2013 in the second week of May. Don't forget to tune in to the Dota 2 Finals of the RaidCall EMS One next weekend.
otacon
, Sunday, 14/04/13 12:40


Information:
info write comment not allowed