RaidCall EMS One: Experience the Finals live in Cologne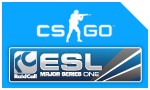 With all groups played out, the teams who advance to the Spring 2013 Finals in Cologne have been found. From over 400 teams in the A-Series, only 8 teams are left who will play the deciding matches for the $39,000 prize pot. We would like to introduce the last teams standing in this competition to prepare you for the big event on the next weekend, 13th and 14th of April in Cologne!
RaidCall EMS One CS:GO Finals in Cologne
Tournament Bracket
The bracket drawing for the RaidCall EMS One Spring 2013 CS:GO Finals took place live on ESL TV today at 17:00 CET. Teams that won their group played against the second-place finishers, however, teams from the same group could not be matched up with each other in the quarter final. These are the quarter finals:

Imaginary Gaming vs. fnatic


n!faculty vs. Absolute Legends


ESC ICY BOX vs. Ninjas in Pyjamas


Anexis eSports vs. VeryGames

Tournament Bracket
Schedule
Sat 13/04, 11:00 CEST:

n!faculty
vs.
Absolute Legends

Sat 13/04, 14:00 CEST:

Anexis eSports
vs.
VeryGames

Sat 13/04, 17:00 CEST:

Imaginary Gaming
vs.
fnatic

Sat 13/04, 20:00 CEST:

ESC ICY BOX
vs.
Ninjas in Pyjamas

Sun 14/04, 11:00 CEST: Semi Final #1
Sun 14/04, 14:00 CEST: Semi Final #2
Sun 14/04, 17:15 CEST: Grand Final
Tickets
On the 13th and 14th of April you have the chance to be on the spot when these eight teams face of to determine the very first winner of the RaidCall EMS One. See all the matches live, meet the players and enjoy free drinks and food in the ESL TV Studio!
Soodi
, Friday, 05/04/13 07:04


Information:
info write comment not allowed