Archive ESL Europe Europe Counter-Strike: Global Offensive EMS One
EMS One Katowice Qualification: EU Qualifier #1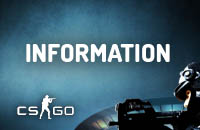 With the Regional Qualifiers for the US$250,000 EMS One Katowice ending this weekend, the open European Qualifiers draw closer. You are now able to sign your team up for the first cup, which takes place on the 18th and 19th of February, granting four teams a slot at the European Qualifier Finals. Who will be able to get one step closer to being part of the biggest eSports event in Europe?
EU Qualifier #1: A 2nd chance to everyone who did not make it so far
The first chance for all teams who have not yet qualified has come. Now you can show your skills, once again fighting against teams from all over Europe to claim one of the remaining spots. Are you skilled enough to take on the rest of Europe? Sign up and show us!
EMS One Katowice - EU Qualifier #1

Sign up now!

(Check-in: 12:00 - 12:10 EDT)
Check-in is first come, first serve.

Sign up until Tuesday, 12:00 EDT
Date: 18th to 20th of February
Start: 13:00 EDT
Structure: Single Elimination BO1

The top 4 gain a spot in the EMS One Katowice EU Qualifier Finals
How does the Check-In work and what is it good for?
On Tuesday there will be a
Check-In
starting at
12:00 EDT
until
12:10 EDT
to confirm your participation. Afterwards until
12:30 EDT
teams can sign up right away with no need to check in anymore. This helps us having almost no teams in the tournament that are not able to start playing by the official match time of 13:00 EDT. So the tournament can run smoothly.
NOTE: If you won't use the Check-In or the late sign up in the given time frame, you can't participate in the EMS One Katwice EU Qualifier!
The teams of the European Qualifier Finals so far
EMS One Katowice: The next steps
On the 22nd and 23rd of February, the second EU Qualifier will be held. Here the last four teams for the European Qualifier Finals will be found, these kicking off just two days later on the 25th of February. Stay tuned for updates on the cups and even more coverage!

Soodi
, Thursday, 13/02/14 11:14

No comments yet.

Information:
info write comment not allowed