Summer Season everybody!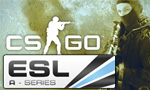 Winter - ehh Summer is coming! Let's celebrate the start of the CS:GO A-Series Summer Season 2014! But first, let's honor the three teams that made it to the top of the CS:GO A-Series Spring Season 2014 and earned some fancy awards!
The winner of the Spring Season 2014
The Summer Season 2014
The Summer Season starts with the first match date on Thursday and will be running until till the mid of September.
Premium restriction dropped
As announced in the
last news
from April, we dropped the Premium restriction for the Premier Division of the A-Series. That way, more teams will have the chance to compete against the best teams in Europe!
Matchdates
The match dates for the Spring season will be the same as the match dates from the last season and therefore look as follows:

Monday - 21:00 CET

Tuesday - 21:00 CET (Open Division only)

Thursday - 21:00 CET

Sunday - 20:00 CET & 22:00 CET
The prizes
All participants of the A-Series have the seldom chance to win the
A-Series Award
!
You'll find more information in our recent preview called A-Series explained:
I Divisions - II Points System - III Matchmaking - IV Minimum Activity
Questions? Don't hesitate to share, discuss and feedback in our
A-Series Beta Forum
.
---
After we put a lot of attention on VERSUS recently, A-Series is our new feature for all ambitious and competition loving players, teams and eSports fans out there. Step-by-step more games will equipped with our new league system, taking into account your feedback of course.
Good luck and have fun!
basert
, Friday, 16/05/14 11:07


Information:
info write comment not allowed