Archive ESL Europe Europe ESL Major Series Season IV CS Female
unFinished out & Snogard in for gamescom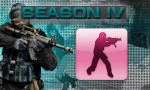 On Sunday the last online match of the ESL Major Series between Pink Zinic and Team Alternate finished with a final score of 2-0 in favour of Pink Zinic. Therefore we thought that we found our four teams which will play the last matches of the playoffs offline at gamescom in Cologne, Germany. Sadly, we now have to announce that one team won't be able to participate.
However, yesterday we got a sad message from

unFinished
as they told us that they can't participate at the offline finals which will be held during the gamescom in Cologne, Germany.
Cathrine '
2478692
' Halvorsen from unFinished gave us the following statement:
We are really sad to announce that we wont be able to participate at the finals in Germany as the top4 team we really are.
We are looking forward for upcoming seasons together with ESL, so count us in!

Best regards,
lillsan, Miranda, sKOGSHUGGARn, passi0n, Ninnzan
unFinished

So this means that

unFinished
will drop out and the German female team, which will play in the upcoming season of the ESL Pro Series in Germany, will take their spot. Namely:

we are ...
Qualified for gamescom
ESL Major Series IV CS1.6 Female Finals
Date:
19. until 23. of August 2009
Venue:
gamescom
City:
Cologne, Germany
Prize money:
4,000 Euro
Participants:
4 CS 1.6 Female Teams
crtmN
, Tuesday, 04/08/09 09:07


Information:
info write comment not allowed