Archive ESL Europe Europe Crossfire
New S&D 5on5 Ladder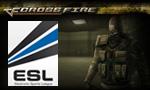 A new free game is here in the ESL. We have now opened the first Cross Fire Search & Destroy 5on5 Ladder! Now is the time to sign up your team and participate in the ladder!
---
Are you new in the ESL? But you want to join a ladder or cup? You can first take a look at our
Getting Started
. In this guide, all basic functions of the website are described step by step. Good Luck!
---
The Game
Cross Fire is a nice and free shooter game. You can download it from
official the website
and start the battle with us.
Cross Fire S&D 5on5 Ladder
Cross Fire Search & Destroy 5on5 Ladder:

Gametype: Search & Destroy
Match Module: 1 Map, 11 Rounds each side

Mappool:

BlackWidow
Ceyhan
Factory
Mexico
Port
Sub Base


Restrictions:


Team Logo
Registered Gameaccount (Cross Fire Nickname) (enter)


You can also look up all rules here: Rules & Information


Sign up now!
Don't you like those rules, maps and settings? Just give us your feedback and define the rules by yourself. We will try to realize as much suggestions as possible. Just post your suggestion in the
Cross Fire Board
. Of course, we are going to open new ladders in the future!
YourESL

Admin Team


Information:
info write comment not allowed