Archive ESL Europe Europe Company of Heroes 2
ESL Company of Heroes 2 1on1 Summer Cup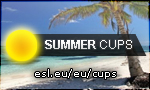 Greetings Company of Heroes 2 fans. Today we would like to announce to you our summer season tournaments! Our 1on1 Summer Cup will follow the flexible time format where you will have up to one week to complete each of your matches. This tournament is single elimination and capped at 32 players. It's first come first serve so sign up quickly to avoid disappointment.
1on1 Summer Cup 2014
Sign up now!

Sign up until Wednesday 9th July, 23:59 CET


Date: Thursday, 10th of July


Start: 00:00 CEST

Size: 32 Players


Structure: Single Elimination



Basic rules:

Mode: Best of Three
Settings: 500 Victory Points, Standard Resources,
Fixed Positions
Mirrors are not allowed


Beginners guide to sign up:

Register on ESL
Enter your CoH 2 Steamname
Click the sign up link!

Detailed Rules
Dates and Times
The tournament is scheduled to start on Thursday 10th July 2014 at 00:00 CEST.
Round 2 begins on Thursday 17th July 2014 00:00 CEST, round 3 begins on Thursday 24th July 2014 00:00 CEST, round 4 begins on Thursday 31st July 2014 00:00 CEST and round 5 begins on Thursday 7th August 2014 00:00 CEST. You will have one week to play each match.
Map and Faction Choice
Map Veto will be used to determine the map to be used in each round. Individuals will take turns in vetoing maps until one is left. That map will be used for the whole match.
The contestant on the left side of the match page will play as Allies for the first game then Axis in the next game.
If the deciding game needs to be played then the player with the best Victory Point score from both games gets faction choice in the deciding game. For example if your team wins game 1 with 300 VPs and the enemy team wins game 2 with 200 VPs then your team will have faction pick for the deciding match. In the games you lose, your victory point score for that game is not included in the final total to decide faction choice in deciding games.
Map Pool

Kholodny Ferma (Axis Positions 1&2, Allies Positions 3&4)

Kholodny Ferma Winter (Axis Positions 1&2, Allies Positions 3&4)

Crossing in the Woods

Semoskiy

Semoskiy Winter

Langreskaya (Axis Positions 1&2, Allies Positions 3&4)

Faymonville Approach

La Gleize Breakout

Karellia Winter

Donbass Strategic Offensive

Hollow
For further information on adding the community made maps please refer to this
news post.
Commanders and Bulletins
Any commanders marked as
"Premium Item"
in game is not permitted.
All bulletins are permitted.
Prizes & Awards
The winning player will get this exclusive Summer Cup Award. The Award will be displayed in the player's profile. The top 3 players will be also be awarded ESL premium if there are more than 8 participants



1st place:
3 month

Premium


2nd place:
2 month

Premium


3rd place:
1 month

Premium
Support & Help
For any question, doubt, perplexity, feedback and advice please contact the ESL Admin Team. You can do so by opening a Support Ticket!

// Your

Admin Team


Information:
info write comment not allowed