Black Ops 2 Opening Cup powered by Hauppauge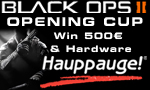 Months of hungering for the new sequel of the Call of Duty series are over. Our Opening Cup is a little foretaste of what is to come. Secure yourself some great prizes and award in this exciting cup! Search & Destroy 5on5 mode will be used in this cup.
Only a couple of days after the final release, our Opening Cup will take place. Up to 256 teams will be able to participate on November 25th. We will use the rules of the previous Release Cup.
Do you and your friends have the guts to make your way to the top? This cup will take place in cooperation of the European and German section to bring you all the competition that's possible.
Opening Cup powered by Hauppauge

Sign up now!

(Check-in: 18:30 - 18:50 CET)
Check-in is first come, first serve.

Sign up until Sunday, 18:29 CET
Date: Sunday, 25th of November
Start: 19:00 CET
Size: 256 teams
Structure: Single Elimination

Win cash prizes as well as the Hauppauge PVR2 Gaming Edition

Basic rules:

Maps: Fixed map per round
Teamsize: 5on5
Mode: Best of One
ESL Wire: required

Beginners guide to sign up:

Register on ESL
Enter a contact method (Skype, IRC, etc.)
Click the sign up link!
CheckIn
There will be a Check-In to confirm your participation shortly before the cup starts. Afterwards all teams can sign up right away with no need to check in. This helps us having mostly teams in the tournament who are able to start playing the cup so the tournament can run smoothly.
Opening Cup Prizes

1. place

200 € + 5x
Hauppauge PVR2 Gaming Edition

2. place

150 €

3. place

100 €

4. place

50 €
Record your PC gameplay, with the HD PVR 2 Gaming Edition
The HD PVR 2 Gaming Edition can be connected to the HDMI output of your PC to record your gameplay. With the "no delay passthrough", you can play your game while recording. And the recording will not slow down your PC since the encoding is done within HD PVR 2! Make video recordings of your best game play in HD. Upload your favorite games to YouTube and share them with other gamers online. Or make a high definition movie of your game play to share with your friends or use it to discuss tactics with your clan members!
Are there awards?
If there are at least 32 teams participating, we will hand out these fine awards:


Have fun and good luck in our global Black Ops 2 Opening Cups.
And even more to come!
Today we are proud to announce that our Black Ops 2 section will be getting a Go4 Cup Series. Go4BO2 is powered by Hauppauge who not only support PC-Gamers with a Go4BO2-Series, but also Console-Gamers!
About Go4 - Est. 1999
Here are some facts about the famous Go4 Cupseries


Go4 is open to all teams, you need not qualify beforehand


Go4 is Europe's largest weekly cup series


Every Go4 has a big prize money pot every month


Exciting tournaments every week


eSports at its best! Boom!
Support and Questions
Don't hesitate and feel free to leave feedback or questions via our Support System, Forum, the comments or Steam Group, which will be also used during the cup. Therefore everyone is gladly invited to join this group.


Stay informed!
(be one of the first 600 to like us on facebook and get the chance to win
ESL Premium!)
Your ESL


Admin team
otacon
, Saturday, 17/11/12 08:51


Information:
info write comment not allowed