Archive ESL Europe Europe CoD4
EU Hosted Qualifiers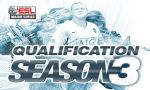 Details for how teams from Denmark, Finland, Hungary, Norway, Sweden, UK can qualify for the €3.000 third season of the ESL Major Series are inside.
Up to the top 4 teams from each qualifier will qualify either directly for the third season of the ESL Major Series groupstage or go into one of the two knockout Qualifying Rounds. The exact distribution of slots will not be known until later.
Update:
The qualifiers for

Denmark and

Hungary are cancelled as less than 4 teams signed up. Teams from these countries will have to qualify via the European qualifier which will be announced later.
Structure
The Finnish, Swedish and UK qualifiers are double elimination, the Norwegian qualifier is a 5 team league
One map per round, first to 13 rounds wins
Schedule
(Finland, Sweden)
Round 1. 25th May 20:00 CET
WB Final/LB Final. 25th May 21:30 CET
Consolation Final. 1st June 20:00 CET
Final. 1st June 21:30 CET
Schedule
(UK)
Round 1. 25th May 20:00 CET
WB #2/LB #1. 25th May 21:30 CET
WB #3/LB #2. 1st June 20:00 CET
LB #3. 1st June 21:30 CET
Consolation Final. 8th June 20:00 CET
Final. 8th June 21:30 CET
Schedule
(Norway)
See here
Maps
The map pool is mp_strike, mp_vacant, mp_backlot, mp_crash, mp_citystreets
The team on the left side of the match sheet eliminates the first map, teams take it in turn eliminating until one map remains
Special notes
No show time is 15 minutes
Remember at all times ingame 3 out of 5 players must be from the country of the respective qualifier
Prizes
The prize distribution for ESL Major Series Season III Call of Duty 4 has doubled from last season, €3.000 split as follows:
1st. €1.500
2nd. €900
3rd. €600


Information:
info write comment not allowed