Archive ESL Europe Europe CoD4
Winner of Autumn Cup 2013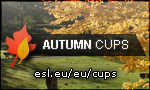 Alltogether seven teams fought for the title of the best team from our season cup. Finally myn2L.de Call of Duty 4 could win all matches without a single loss! Congratulations to myn2L.de Call of Duty 4. In the final match they played again the spanish team from Sixth Sense.CoD4 and won in overtime on crash.
The winner's podium
Congratulations to
myn2L.de Call of Duty 4
for winning the autumn cup!
The prizes
No award will be given, because we did not have 16 participants at the
3on3 Search & Destroy Autumn Cup 2013

There also won't be the announced premium prizes, because there were a requirement, that we need
at least 8 teams
.
3x3 months Premium for the winning players
3x2 months Premium for 2nd place players
3x1 month Premium for 3rd place players
&nbsp Follow us on Social Media!
To get the latest news about our Summer League, night cups and higher competitions like the EMS join our communities on Facebook and Twitter.



Information:
info write comment not allowed