Archive ESL Europe Europe ESL Major Series Season VII Call of Duty 4
EMS VII CoD4: Top 12 Announced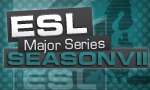 With the EMS VII well underway and the 1st Qualifying Rounds now complete, we can now officially announce the top 12 teams which have been automatically granted an open entry into the Group Stages as a result of their past efforts and great performances.
It takes a high level of skill and dedication for a team to be automatically granted a free entry pass into the ESL Major Series Group Stages, however the following 12 teams have managed to achieve what so many can only dream about and have therefore been carefully selected and given the go-ahead to participate in the latest edition to the ESL Major Series;

To be announced

mTw

Team Redbyte Italy

TCM-Gaming

TCM-Gaming COD4

MondialServers

eSuba.INTEL

Team SPEEDLINK

SFTO eSports

Epsilon eSports COD4 EMS

GameLimitedd

OX.Enermax EMS.COD4
With the exception of

Team Dignitas
- who have yet to be determined, the above teams were chosen as a result of their past performances in ESL tournaments and of course earlier Major Series events.
Now with the 1st Qualifying Rounds finished and the 2nd Qualifying Rounds only a few days away, it can be only be a short matter of time before we get to see some of those top teams finally play against each other in an effort to snatch that all important EMS 7 winners title as well as the jaw-dropping €1,000 prize pot.
We would like to wish all teams the best of luck in the tournament - for further questions please contact the admin team.


Information:
info write comment not allowed