Archive ESL Europe Europe Call of Duty 2
When ESL met rAz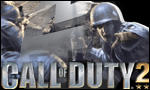 It's been some time since we did an interview with a popular and successful player of the ESL Call of Duty 2 area, but finally here we go again. This time we interviewed a longterm 1on1 Player, who is strongly placed within the top 5 of the ESL EU Call of Duty 2 1on1 Ladder, rAz for you. Want to know more about one of the Europes top 1on1 CoD2 DM Players? Read more!
This is him,

rAz
, one of the best-known players in the ESL and the international Call of Duty 2 community. He joined the ESL on the 27th of January 2005 and has been inside the top 5 in the 1on1 DM ladders for several months.
Let's switch to the main part, here is the interview:
Name:

Jeffrey

Age:

16

( 03/18/90 )

City:

Büllingen

(Belgium)

#hack4life (quakenet)

HP: http://www.hack4life.de

Hello rAz! How about you tell something about yourself for ESL gamers!
Ok hello! My name is Jeffrey B. but I play in the esl with the nick rAz! I live in Belgium and I play in the 1on1 esl dm international ladder!

When did you start playing Call of Duty and what makes Call of Duty such an interesting game for you?
I started playing Call of Duty one year ago. I began playing Call of Duty and then I switched to Call of Duty 2! It very exciting to create new tactics and create a good team to remain in the esl. Call of Duty offers me a lot of possibilities on how to spend my time.

What is the key to success? What has a player to do to get to higher ranks?
Well, I think that it is very important to have good aim and you must know the spawnpoints of each map, which is very very important for the deathmatch ladders.

What do you think about the ESL international Call of Duty 2 section?
At the moment there is not so much activity, I hope it gets more active. It 's good to see the playing style of other teams of differnet countys.

Is there anything you would you like to say for all ESL gamers who are reading this interview?
I can only say that all team must join into the international ladders because it's a good train to get know the internationel tactics. And it make a lots of fun to play with international players from a variety of different countries and cultures.
We hope you found this interview as interesting as we did, and we look forward to even more conversations with popular players from the Call of Duty 2 scene!
//Your ESL Call of Duty 2 Admin Team
932314
, Monday, 15/05/06 18:04

No comments yet.

Information:
info write comment not allowed