Chivalry Weekly Cup #5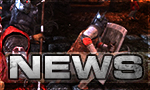 Once again we call you for the weekly ESL cup. This week you are not going to fight for the crown on your own. You have to chose two extra brave warriors that have got your back in order to participate in the daring 3 versus 3 tournament. Make sure you can rely on your companions, they may have to save your life! Get ready to rumbleeeeeee
More information can be found below.

Date:
30.03.2013
Start: 19:00 CET
Sign up until: 18:00 CET
Time for one round: 1 hour

Tournament structure:

Game rules:
Mode: LTS 3on3 Melee Only
Type: Best of 1
Match ends when one team wins 7 rounds
Maps: Moor
No archers are allowed
Please note that cup is in 5on5 navnode, but we are playing 3on3!
Admins wanted!
If you think that you are up to the job, and would like to be a helping hand in your community, then please
write an admin application
! The Chivalry Admin Staff is waiting for you! For details, please read
this news!
Feedback needed!
We are waiting for your feedback and ideas on our
forum
! If you have something interesting to say, feel free to post it there. Your opinion will help us to make this section better!
Your


Admin Staff

No comments yet.

Information:
info write comment not allowed