Chivalry Weekly Cup #3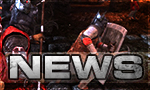 Once again it is time to proof your fighting skills in a thrilling 1o1 tournament!
Read this news to learn more about this weeks' Weekly Cup!
Join this weeks battle and try to be the new king on the 1o1 Throne. So sharpen your weapons, polish your armor and dont hesitate to sign up! Because this time only 16 fighters get the chance to earn the crown.

Date:
09.03.12
Start: 19:00 CET
Sign up: until 09.03.12 18:00
You have 30 minutes to finish one round!

Tournament structure:

Game rules:
Mode: 1on1
Type: Best of 1
Timelimit 10
Fraglimit 10
Maps: Arena FFA
Admins wanted!
If you think that you are up to the job, and would like to be a helping hand in your community, then please
write an admin application
! The Chivalry Admin Staff is waiting for you! For details, please read
this news!
Feedback needed!
We are waiting for your feedback and ideas on our
forum
! If you have something interesting to say, feel free to post it there. Your opinion will help us to make this section better!
Your


Admin Staff
afi
, Thursday, 07/03/13 13:42


Information:
info write comment not allowed