Chivalry: Medieval Warfare - Admins wanted!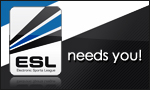 Chivalry: Medieval Warfare is a new game that will come soon to ESL. Our Majesty seek for noble players to judge our knights on field of battle. Sir, canst thou help us?
At the Electronic Sports League we are always on the look out for enthusiastic and highly motivated individuals to join our admin team. Whether you're a new player or long time veteran you can help out and make a difference in your game's community.
The Electronic Sports League thanks you for your interest in becoming an admin.
Who are we looking for?
We are looking for admins to start and manage a new section of Chivalry: Medieval Warfare, including daily work like checking leaguejoins, tickets or matches and some non-regular things like cups or rules.
Admin work is pure voluntary. All admins get free ESL Premium, and sometimes have the opportunity to go admin at ESL events or other rewards. The main reward of being an admin is being able to contribute to the community.
Requirements
At least 16 years of age

A knowledge about the game and its scene

A good knowledge of English language

A sense of responsibility, reliability and flexibility

A good history

Lots of time and motivation

Neutrality and objectivity in decision making

Understanding the nature of conflicts and being able to resolve them

Capability of working in a dynamic team

If you feel you are meeting our requirements and you want to do something for Chivalry: Medieval Warfare community, write an application*!
* Application has to be written in English. Please write a detailed application!
Your


Admin Team
Peli
, Tuesday, 04/12/12 18:20

No comments yet.

Information:
info write comment not allowed