Archive ESL Europe Europe Blub Game
1on1 Winter League 2014 is coming!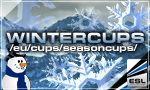 This is the right time to arrange our Winter Cup in the european Blub Game section. We hope you'll enjoy this cup and maybe win the exclusive Winter award!
The Winter League 2014


Start:
Sat. 01.02.2014
You have 2 days to play each match

Modus:
This time players will compete in a Double elimination tree. You have to play in 4on4 / 1.5x until the quarters, and from the semi-finals in bestofthree. More information will follow on the matchsheet regarding the settings of the BO3 matches.

Questions ?
IRC #esl.blubgame
or
Support ticket

Restrictions:

Sign-Up:
NOW
to 31.01.2014
| | |
| --- | --- |
| 1st Place | |
| 2nd Place | 2 Months remium |
| 3rd Place | 1 Month remium |
Why Premium ?
No advertisement
Active support of league
No waiting time at Gather
Awards
Start Gather with ESL Wire Anti-Cheat
Access to special leagues (f.e. Amateur Series)
We are searching for Admins !
If you think that you are up to the job, and would like to be a helping hand in your community, then please
write an admin application
! For more information about the requirements, check out the
Admins Wanted
News.
We wish you all the best of luck and much fun in the Electronic Sports League.
// Your


Admin Team
KaiN
, Sunday, 12/01/14 13:05


Information:
info write comment not allowed