Archive ESL Europe Europe Blub Game
The summer coming to Blub game!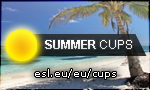 The sun is coming up and it is getting hotter which means the summer is coming! We finished the spring cup but it is time to move on. That is why we have another awesome cup for you in store. You can prove yourself worthy among the best of Blub game. Think you can take on the challenge? Check out this news to find out more about our summer cup!
1on1 Blub game summer cup!
Settings & Schedule
The player on the left side of the ESL page can choose the settings in the first game. The other player can decide the settings for the second game. In case a third game has to be played, you have to use the standard ruleset which is a 4on4 field with speed 1,5x.
We will be having 2 matchdates per week. This will be every Tuesday and Thursday on which we will be playing a match. Should you have any problems with either one of the dates, you can open a protest to arrange a different date.
Prizes
ESL Premium Account


1st Place:

3 Months


2nd Place:

2 Months


3rd Place:

1 Month


Cup Winner:

Special Summer Award

For the premium prizes we need at least 8 players and for the award at least 16 players

Support & Help
Should you have any questions or problems with the cup or any other kind of difficulty, you can contact us with a Support Ticket! For any problems regarding a specific match, please create a protest.
FaixY
, Tuesday, 01/07/14 07:41


Information:
info write comment not allowed