Archive ESL Europe Europe Battlefield: Bad Company 2
4on4 TDM Knife the VIP *UPDATE*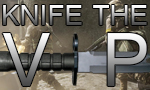 The first ESL-try of a knife the VIP cup based on experience of the knifethevip-tournament by Doubledutchclan.nl! Something new and funny for the ESL BC2 community. Sign ups are open until the 2nd september 2011. Settle up your teams!
The cup will be on the
4th and 5th september 2011.
Remember that all players in this cup
HAVE TO
run the ESL Wire Anti-Cheat! Otherwise default wins and perhaps other punishments will be given out. And now a few important informations about the cup:
Matchtimes
Mode
Single Elimination 1 Map
Contestants
32 Teams
Map
Isla Inocentes
Gamemode
TDM
Schedule
Round #1 - 04/09/2011 19:00 CET
Round #2 - 04/09/2011 20:00 CET
Round #3 - 04/09/2011 21:00 CET
Round #4 - 04/09/2011 22:00 CET
Next day:
Finals - 05/09/2011 20:00 CET

Rules
When your opponent does not show up within 15 minutes of the match start they will lose by forfeit. ESL Wire Anti-Cheat need to be used! Special rules underneath.
Sign Up!
Serversettings:

Hardcore: off
Friendly fire: on
3D spotting: off
Mini Map spotting: off - to avoid random spotting
Kill Cam: off
Killlimit: 50

Gameplay-Rules

The VIP has to wear the VIP tag – he's the only one!
(for example: [VIP] Coci)
VIP has to be RECON and he's the only one who takes this class
The VIP is not allowed to use any weapon beside his knife and the motion-sensor
The team with the most VIP-knife-kills wins
The round ends when one team has reached 50 kills
Suicide is not allowed
Consciously team killing is not allowed
The VIP has to spawn after the respawn-time – it's not allowed to hold the spawn for the VIP
Using the TANK is not allowed!
Violating one of these rules will lead to a default loss for this team

Disallowed weapons

No M60
No MG3
No AN-94 Abakan
No NEOSTEAD 2000 Combat, SPAS-12 Combat, 870 Combat
No 40mm grenade launcher
No rockets
No C4
No Mines

Matchmedia

You have to make a screenshot of every knifed VIP or at least the agreement of your opponent
ESL–Wire is mandatory!
Gather your teams and have fun!
The final Result:


| | |
| --- | --- |
| 1st | |
Double Dutch Clan E-sports
---
| | |
| --- | --- |
| 2nd | |
Aspire
---
| | |
| --- | --- |
| 3rd | |
Paranoia eSports
Congratulation Team Double Dutch Clan.
Your


Admin Team
bLuE
, Tuesday, 23/08/11 13:23


Information:
info write comment not allowed