Go4BF4 Cup #7 is waiting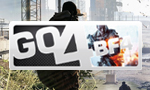 It's a week full of EMS Battlefield 4 action and at the end, every team have the chance to win €100. Play our Go4BF4 Cup #7 and you have all chance to be one of the top 8 teams in the monthly ranking and qualify for the €500 Monthly Final. Take part and make your way to the top, all needed information in this news!
Sign up with your team, take part in the next Go4BF4 Cup and compete for cash prizes up to €1.000 every month.
So, Good luck and have fun to all teams and may the best team win.
Go4BF4 Cup #7: Win €100!
Sign up now!

(Check-in: 14:30 - 14:40 CET)
Check-in is first come, first serve.
Be there on time to make sure you do not miss out!

Sign up until 14:40 CET
Date: Sunday, 9st February
Start 1st round: 15:00 CET
Size: 64 teams
Structure: Single Elimination



If you have any problems during your matches, please open a
Protest
ticket instead of a Support ticket, so all match contestants can see and react to it.
The current Top8 Teams

full ranking
What are the Go4 Series?
The Go4 Series are a special cup series with prize money. From now on there will be one cup each week where you can earn prizes and points to qualify for the monthly finals. Each week you will receive points depending on your place and the cupsize.
The Top 8 teams with most points at the end of the month will qualify for the monthly finals where they will get a chance to fight for a
€500 prize money
.
See you on Sunday,
Your

Admin team

No comments yet.

Information:
info write comment not allowed