BF3 Admin Tasks 3rd Quarter 2013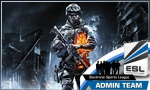 The 3rd Quarter of 2013 ended yesterday, so here is our small review what we've done the past quarter! Have a look!
Tickets
We are working hard to close all open tickets as fast as possible with the correct and most fair result.
Our total amount of Tickets from 1st July till 30th September is:
724
Tickets, separated into two categories: we got
461
Support-requests and
18
Protests.
The BF3 EU Staff
Leaguejoins
We are checking every leaguejoin for fakeaccount suspicion and other stuff, the stats of the BF3 EU Section:
We worked on 342 leaguejoins from July to September.

Vetos
We worked on 141 Vetos out of 20818 Versus Matches this quarter by checking the facts and discussing them in the internal Staff team.
News
We wrote 19 news in the past 3 months to inform you about new Information, Cups and other stuff.
Bans
We are investing much time to lock the "BLACK SHEEPS" of BF3, as we given 182 bans (ESL Wire, Admin decision and MBL-Entries) from July to September!
---
Help us to keep the BF3 EU Section fair and clean, report players you recognize on banlists of PBBans and GGC!
Admins wanted
We are still searching for more interested and motivated players for our Staff team! For more information about the requirements, check out the Admins Wanted News.
here
Apply here!
Your


Admin Team
bLuE
, Wednesday, 02/10/13 05:13

No comments yet.

Information:
info write comment not allowed