Archive ESL Europe Europe Battlefield 3
Go4BF3: Battle for 10,000 Euros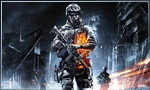 A few days ago the shooter of the year, Battlefield 3, was released and now we can announce the Go4BF3 series. In the Go4BF3 series you can win up to 1,000 Euros every month and 10,000 Euros in total! In this news you will get all neccessary information you need.
How Go4BF3 works

One cup every sunday

100 €
every week for the winner

Top 8 teams earn points for the monthly ranking

Top 8 teams of each month qualify for the monthly final

Monthly final winner gets
500 €
!
Go4BF3 Cup 1:

Sign up now!

(Check-in: 14:30 - 15:00 CET)
Check-in is first come, first serve.
Be there on time to make sure you do not miss out!

Sign up until 14:30 CET
Date: Sunday, 13th November
Start: 15:00 CET
Size: 64 teams
Structure: Single Elimination




See the cup information page for more details
Upcoming Cups

November / December

Christmas and New Year


January
08.01.2012 15:00 CET - Go4BF3 #7 €100
15.01.2012 15:00 CET - Go4BF3 #8 €100
22.01.2012 15:00 CET - Go4BF3 #9 €100
29.01.2012 15:00 CET - Go4BF3 #10 - Monthly Finals €500
How can I play in Go4BF3?
All you need to play in Go4BF3 cups is a clan or team to play with and an ESL player account.
Click here to learn how to register and create an ESL team account.
I am ready, let's go!
You created a team and all members joined? Then sign up for the very first Go4Bf3 cup right now! Cup #1 will be played on
Sunday 13th of November
.
The first final will be in december, the points you earn in november will be added to december.
Your

Admin Team
dywlkr
, Thursday, 10/11/11 13:50