Archive ESL Europe Europe Battlefield 3
Open Beta starts September 29th!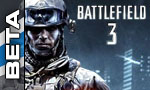 It's time to announce the start of the Open Beta for the most epic tactical shooter: Battlefield 3. The Electronic Sports League is going to war, join us on the battlefield! Make sure you are ready on the 29th september 2011 to take part in the Open Beta for Battlefield 3. Check out this news to get a short overview of important facts about the BETA.
How can i join the Beta on the 29th september?
You just need to check out the
official EA BF3 Beta section
at the 29th september to sign up and download the Beta.
For all

german users: Check
this news
to get one of the ESL Beta keys for Battlefield 3!
What maps or modes will be played in the Beta?
Map: OPERATION MÉTRO
Hardcorce Battlefield action in the parisian metro and city.
Mode: Rush
Attack/defend M-COM stations, stage by stage through the parisian city
I got pre-access for the Beta, what do i have to do?
If you bought

Medal of Honor:Limited Edition or preordered

Battlefield 3 via Origin, you will have a 48h pre-access for the beta. Just wait for an email to get all informations about your pre-access.
What will the ESL offer for the Battlefield Beta?
Be sure that we will offer you a lot of cups for the upcoming Beta. Yes, you are right, there will be more than one cup. So gather up your teams for a short Cup Series.
Your


Admin Team
We will announce a news about cup dates and match rules before the Beta is live, so make sure you're informed. For this reason join our Battlefield 3 section and follow us on Twitter and Facebook!

Coci
, Tuesday, 20/09/11 14:01


Information:
info write comment not allowed