Archive ESL Europe Europe Battlefield 2
Community Mixed 2011 - The Big Conquest Battle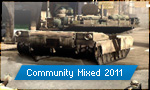 Blasting bombs and rockets, hot fire of machineguns and rifles, dust and the sound of hell when the tank drives by. Speedy jeeps and endless salvos of the antiair. Let's play and enjoy Battlefield 2 Conquest, together! Join this community event and play with mixed teams a skillfull clanwar. Set your name on the list and be ready for the 14th august 2011! The hole event is supported by a live stream from RushTV!
Set your name on the list and be ready for the
14th august 2011
! The hole event is supported by a live stream from RushTV! To answer the upcoming questions, just check out the following answers!
What game mode will be played?
12on12 Conquest
will be currently played, if we are able to gather more people we can expand it to
16on16
with even more than 2-3 teams! So join up to push the mode to 16on16!
How can i join the player list to take part?
Sign up here:
Playerlist Thread
Sign up on the list as a player or/and team leader. If you want to be a player, you are in the pool of players for the different mixed team. If you are experienced enough to lead a 12on12++ team to the battle then don't wait to sign up as a team leader for one of those teams!
How are the teams made?
After the sign ups are finished, the different team leaders choose their players one by one out of the pool. The teams will be chosen by the mode (A-B-B-A-A-B-B-etc.)
Which tournament mode will be played?
According to the number of teams we will play a direct match or a small tournament tree in which each team plays against each other. We would like to play 2 maps a match to get the awesome conquest experience.
Where can i find the RushTV stream for the event?
Check out this link to get directly to the RushTV stream:
RushTV stream
The Sign ups will end on the
10th august 2011
so that the team leaders got time to check out their team and tactics! The first action rounds will start on sunday the 14th august at 19:00 CET, so be ready a few minutes before to get all stuffs together. More information about the event will be send to you by email when you have signed up!
See you on the battlefield!
Coci
and
Santaure
.
Your

Battlefield 2 Admin Team
---
Join us on Facebook and Twitter to get the latest news about the Battlefield Games in the Electronic Sports League! Get info about cups, ladders, pro events, community events and casual gaming days.
Coci
, Sunday, 24/07/11 06:25


Information:
info write comment not allowed