Battlefield 2 Country Championships 2010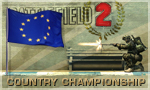 It's that time of the year again as those Battlefield players wanting to represent their country will have just that chance in this year's Country Championships.
This is a preliminary post regarding this year's Country Championships for

Battlefield 2 to give some basic facts, dispel some rumours, and gather the list of countries that will be entering the tournament as soon as possible.
Interest has been shown so far by the following countries:

France

Germany

Croatia

Austria

Czechoslovakia

Ukraine

Denmark

Russia
Ireland

Netherlands
Norway

Sweden

United Kingdom

United States

Israel

South Africa
Saudi Arabia
**UPDATE** : As we are now nearing 16 teams, it is looking more likely we'll be doing a group-stage tournament with the possibility of a double-elimination bracket. Thanks to everyone so far for your applications!
The tournament format will depend on the number of teams which apply, and their eligibility for the place i.e. being able to field a team or the required captain applications being sent. If, in the instance we remain at 8 teams, each team will play each other once in a round stage, after which four teams will progress directly to a quarter final.
There is the possibility we will use a Battlefield 2 mod for the tournament, namely, the new RushZone mod created by Stoner. When all the squads have been finalised players will have the opportunity to test the mod in a match environment and then vote on whether it should be used. The majority vote will win.
Captain Applications and Registering your Country's Interest.
Please complete the following form and return to my PM inbox. Captain positions will
not be chosen by a public vote
and instead will be done by application, then discussed by the BF2 admin team. Note, those applying for the captain position should do so with proposed squad of
no less than five players
- the captain's name may be included as one of these five. These players must consent to being part of the proposed squad.
Name:
Country:
What qualifies you to captain this team:
Proposed Squad:

Player 1:
Player 2:
Player 3:
Player 4:
Player 5:
Hiring News Writers
If you are interested in writing news posts for the tournament, please show your interest by sending me a PM. News writers will be expected to make tournament announcements and give coverage and results of the matches.
All the best of luck.
-

Battlefield 2 Team
Hk2
, Saturday, 07/08/10 09:06