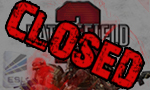 6
We decided to close the Battlefield 2 section due the low amount of teams from Europe and not satisfying activity. Well sometimes you just have to move on and leave the past behind...
But keep your heads up!
22/09/13
BF2 Infantry 5on5 non FBF Cup #1
37
31/08/13
Most Matches Competition - September
3
28/08/13
Prepare for the ESL Series
6

More News
Section is no longer available in ESL EU.