Archive ESL Europe Europe Americas Army: Proving Grounds
AAPG Autumn Cup 2014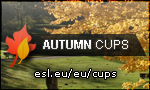 Say goodbye to sun,beach and sea...the trees are losing their leaves and that means the Summer is over and now it's time for the America's Army Proving Grounds Autumn cup 2014.
For this Autumn cup we would like to do a classic 5on5 groupstage + playoffs as many of you requested, the groupstage matches will be played in a bo1 mode and the 2 top teams will advance to the playoffs, then the remaining 8 teams will compete for the title in bo3 matches.
We would like to announce a couple of new things, first of all the new map Intercept_EX will be added in the map pool and last but not least, we made a little change in the server settings, the servers now must have the server side hit detection.*
Autumn Cup 2014
Signup now!


Sign up until: 17/10/14 23:59 CET
Start: 20/10/14 20:00 CET
Size: Depends by the teams
Structure: Group Stage + Playoffs
Basic Rules:

Maps: Watchdog_DE, SpringStreet_EX, InnerHospital_EX
Intercept_EX, Siege_EX, ShadowStep_EX, Breach_EX
Mode: 5on5, bo1 for groupstage, bo3 for playoffs
Restriction: 2 smokes/fogs x player, 1 sniper x team, 1 ar x team
Overtime: 8-8= 1 round x side till there's a winner


Playoffs:
Single Elimination
Veto System**



**Veto System:
Team at the left is starting the elimination and both teams will eliminate 1 map till 3 are left, first team will pick 1 map and the other will choose the side that they wanna start on it and then choose their own map and of course the first team will choose the side on this one, the remaining map will be the overtime if needed.

Server Settings:
NetWait=35
BeginningOfRoundDelay=15
TimeLimit=180
RoundsToWin=9
ForbidGrenadeTime=0
bAutoBalanceTeams=false
bHardcoreMode=false
bReduceFriendlyFire=false
bDisableROE=true
bAllowBleedOut=true
MaxRevives=0
bSpotEnemiesOnDeath=false
bHUD_ForceMinimalHUD=false
bHUD_ForcePlayerCountOff=false
bHUD_ForceInWorldEnemySpotsOff=true
bHUD_ForceActivityFeedOff=false
bHUD_ForceHitIndicatorOff=true
bAllowSpectateMode_ActionCam=true
bAllowSpectateMode_3pOrbit=true
bAllowSpectateMode_FreeCam=true
bAllowIncapMode_SpectateBody=false
bAllowIncapMode_ActionCam=false
bAllowIncapMode_3pOrbit=false
bAllowIncapMode_FreeCam=false
bForceSpectateTeamScreenFX=true
*bUseServerSideHitDetection=true
Prizes for the winners
ESL Premium Account


1st Place:

5x3 Months*


2nd Place:

5x2 Months*


3rd Place:

5x1 Month*


Cup Winner:

Special Autumn Award**
* Prizes will be given if cup reaches 8 contestants.
** Prizes will be given if cup reaches 16 contestants.
Feedback needed!
We are waiting for your feedback and ideas on our
forum
! If you have something interesting to say, feel free to post it there. Your opinion will help us to make this section better!
Your


Admin Staff
waNted
, Wednesday, 01/10/14 11:35


Information:
info write comment not allowed