Archive ESL Europe Spain ESL Pro Series Season X
sTaXx nos acompañará en las finales de EPS X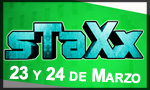 Otro gran youtuber conocido por toda la comunidad competitiva y de youtube, nos acompañará este fin de semana 23 y 24 de marzo en el Telefónica Flagship Store en Gran Vía 28 y en el Corte Ingles de Callao en Madrid.
Podréis conocerle en persona, estar con él y realizar bastantes actividades en la zona de Activision Call of Duty Black Ops 2. Junto al resto de sorpresas que están por venir.
sTaXx nos acompañara las finales de EPS X
sTaXx , conocido por toda la comunidad de Call of Duty competitiva es uno de los youtubers más famosos de España y reconocido internacionalmente como de los mejores jugadores de Call of Duty competitivo.
Podréis conocerle, jugar al Call of Duty BO II, haceros fotos, firmará autógrafos y por su puesto pasar un buen día a su lado.
Sábado 23 a las 17:00 - Consigue jugar con sTaXx un todos contra todos. (Mañana daremos más detalles)

Dómingo 24 a las 13:00 - Sesión de firmas y fotos en El Corte Inglés de Callao

Domingo 24 a las 17:00 - Juega con sTaXx

Domingo 24 a las 18:00 - Sesión de firmas y fotos
Ubicación de las finales
Para este gran evento hemos elegido un marco incomparable en pleno corazón de Madrid: Telefónica Flagship Store. El transporte público más cercano al evento es la estación de metro de Gran Vía, que se encuentra en la puerta del mismo lugar del evento.
Dirección : Gran Vía 28 - 28013 Madrid
Ver mapa más grande
¡Síguenos en Facebook y Twitter!
Si no quieres perderte ningún detalle de nuestros torneos y competiciones no dudes en seguirnos en nuestras redes sociales!
Atentamente,
Tu

ESL España
k3k0
, Wednesday, 20/03/13 16:12


Information:
info write comment not allowed