Archive ESL Europe Spain Call of Duty: Ghosts
ESL Fun Cup PC #1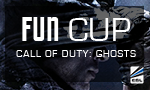 ¡Tenemos el placer de presentar este torneo dentro de nuestra plataforma! En esta ocasión, será para los amantes del Call of Duty: Ghosts de PC con una competición 5vs5. Esperemos que sea del agrado de todos y... ¡podamos ver auténtica competición en este torneo!
ESL PC Fun Cup #1!


Comienzo de la Copa: Miércoles día 12 de febrero



Hora de comienzo de la copa 17:30h



Límite de equipos: 16



Modo de Juego:



Modo de juego: 5on5 - Bo1



Buscar y Destruir



Simple Eliminación



A Tener en cuenta: Os dejamos el link con las reglas específicas del torneo y de las reglas generales de Cod Ghosts PC.



Cómo jugar en ESL
¡En el siguiente tutorial encontrarás una guía de inicio con los primeros pasos y todos los datos de cómo registrarse en la web, cómo crear un equipo, cómo poner tu gameraccount (Cuenta de juego) incluso como apuntarte a los torneos!

Hall of Fame - ESL COD:Ghosts PC
Queda entre los 3 mejores equipos y tu equipo se verá reflejado en el hall of fame de Call of Duty Ghosts de PC.
¡Muy pronto estará el hall of fame!

Xbox One Info
Próximamente lanzaremos para
Xbox ONE
la
A-Series
donde podréis participar y luchar para obtener una de las plazas de la futura
EPS XII
. A continuación os dejamos información sobre el funcionamiento de la
A-Series
.

Versus
Ya tenemos disponible Versus para la plataforma
PC
. Muy pronto dispondremos del resto de plataformas.
En versus encontrarás un sistema para jugar scrims, divertirte, y ver las partidas reankeadas para poder seguir tu propia progresión. Pasa de ser "Casual" a "GoPro".


Estructura de competición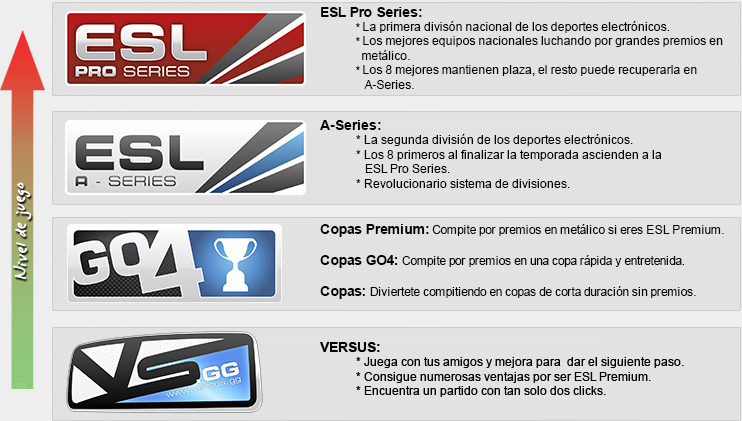 ¡Síguenos en Facebook y Twitter!
Si no quieres perderte ningún detalle de nuestros torneos y competiciones no dudes en seguirnos en nuestras redes sociales!
Atentamente,
Tu


Staff Spain


Information:
info write comment not allowed