Archive ESL Europe Spain Call of Duty: Black Ops 2
Christmas Cup PC 5on5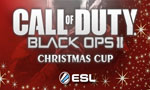 Apasionados del mundo de Call of Duty: Black Ops 2, la navidad está llegando a todas partes, y como no ¡también en ESL! Es por eso que abrimos las inscripciones para la copa más blanca de todo el año, la Christmas Cup. Coge los polvorones y el vaso de leche y únete a la Christmas Cup "Christmas Cup COD:BO2 PC 5on5".


Información sobre otras plataformas
---


Inscripción
---
Fecha:

29/12/2014 17:00

Inscripción: Inscríbete ahora!
Participantes:

32

Modo:

5on5

5 jugadores por equipo



Formato:

Bo3


Premio
---
El equipo que logre alzarse con la victoria obtendrá un galardón muy especial. Éste será mostrado en sus perfiles como premio por haber demostrado ser el mejor en esta copa especial.

Ganador:
5x1 cuenta Premium durante 1 mes para cada jugador del Equipo.

Nota: Los premios sólo se podrán otorgar si se llega a un mínimo de 8 participantes


Hall Of Fame
---
Todos los ganadores contará para nuestro grandioso Salón de la Fama, se hará presente en todas las copas de Call of Duty: Black Ops 2, para que nuestros finalistas puedan obtener el preciado galardón de varias veces top3 en una copa, así que los finalistas de esta Cup, contarán para el HoF, que se actualizará periódicamente.


| | |
| --- | --- |
| Atentamente, | |

No comments yet.

Information:
info write comment not allowed