Archive ESL Europe Spain Call of Duty: Black Ops 2
Saturday Evening Cup S&D 5on5 en Black Ops II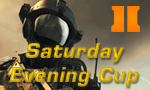 Por fin ya tenemos todo organizado para disputar una nueva copa de Black Ops II tras un largo período de inactividad, que será en la modalidad de Search & Destroy 5on5. Daremos un margen de tiempo de una semana para que los equipos se animen a inscribirse. Será una Copa de Eliminación Simple BO1 map y habrá Premios para el mejor equipo. Además, los que consigan las 3 mejores posiciones serán añadidos al Hall Of Fame.
Call of Duty:"Saturday Evening Cup S&D 5on5"

¡Inscríbete aquí!



Inicio Registro: Domingo 21
Inicio Copa: Sábado 27 Sept
Partidos comienzan: 16:00h
Tamaño: 16 equipos
Estructura: Eliminación Simple

Reglas Básicas:

Mapas: Un mapa fijado por ronda
Tipo: 5on5 S&D
Modo: Mejor de 1-BO1-
Configuración:MR 12


ESL Wire Anti-Cheat será obligatorio en los partidos de COD:Bo2!

Guia para Principiantes:

Registro en ESL
Mete un Metodo de Contacto (Steam, Xfire, etc.)
Click en el link de inscripcion


Cuentas de juego
---
Todos los jugadores deberán tener agregado su Call Of Duty: Black Ops 2 Steam ID para poder registrarse en la copa. Pulsad aquí para saber como obtener vuestra Call Of Duty: Black Ops 2 Steam ID




Premios
---
El mejor Equipo que logre alzarse con la victoria obtendrá 5 claves premium de 1 mes.


ESL Premium Account


Primer puesto:

5 claves premium de 1 mes cada una



Hall Of Fame
---
Todos los ganadores contará para nuestro grandioso Salón de la Fama, se hará presente en todas las copas de Call of Duty: Black Ops 2, para que nuestros finalistas puedan obtener el preciado galardón de varias veces top3 en una copa, así que los finalistas de esta Cup, contarán para el HoF, que se actualizará periódicamente.
Atentamente,
uNDeR
, Sunday, 21/09/14 15:13


Information:
info write comment not allowed