Archive ESL Europe ASUS European Nations Championship
Germany is ASUS ENC 2010 FIFA Champion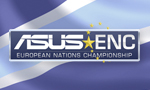 After two month the ASUS European Nations Championship FIFA 10 Grand Final between Germany and Bulgaria is going to get a rematch. The original match caused huge debates regarding reputed time wasting and appearance of a non valid player at the Bulgarian team, which were filed by the German FIFA team.
Update:
styla managed to win the rearranged submatch with 3 to 1 against junioR. Therefore Germany is the ASUS European Nations Champion in FIFA 2010. Congratulations!
---
At the time of the

ASUS European Nations Championship Finals at gamescom 2010
2453731
from

Bulgaria was a member of the LowLandLions clan just as the other two Bulgarian players. ASUS ENC
rulebook
allows only a maximum of two simultaneously playing players from the same clan.
While the time wasting accusation was already declined on site by the referees, clarification of the second objection took longer. After extensive investigation the ESL came to a result. There is every indication that
2453731
was a member of LowLandLions, when the ASUS ENC 2010 Finals took place.
Therefore the submatch between
styla
and the concerned player gets annulled and a rematch was scheduled. Instead of the unauthorised
2453731
,
3980190
will play for Team Bulgaria. He was already able to defeat styla during the second half of the original clanwar.

Galerie der ASUS ENC Finals 2010
Considerung the annulation of the submatch the score between
Bulgaria
and
Germany
is 5:5 at the moment. The winner of the rematch will take the ASUS ENC trophy. If the rematch will result in a draw, Germany will claim the title for having a better goal difference. It's going to be exciting!
At November 3rd 20:00 CET ESL TV will cover
styla
's and
3980190
's clash live, to fulfil the importance of this final ASUS ENC 2010 match. ESL TV will not only show the pure match, but also recap the whole incident including interviews.
otacon
, Friday, 29/10/10 10:32


Information:
info write comment not allowed