Archive ESL Europe Estonia Intel Extreme Masters
Intel Extreme Masters Estonian Cup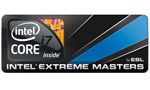 It's time to gather all Estonian Counter-Strike teams together and to find out who is the best! Then just the best team out there will get the chance to represent Estonia in the upcoming season of the Intel Extreme Masters. Featuring $400,000 in prize money, if you've been waiting for your chance to shinem here it is. Qualification for the world's most important Counter-Strike tournament will be held this weekend.
How can my team get into the Masters?
The Estonian National Cup will determine the best team in the country which will qualify for the Qualifying Round 1 of the European Championship.
The Sign-ups for the Estonian Cup are open until Friday, the 10th of September. The structure of the tournament will be announced on Friday night, the 10th of September as is depends on the amount of sign-ups. The tournament itself will be played on 11th and 12th of September. Please make sure that you have enough free time during these dates as rescheduling won't be allowed. Do not sign-up if you aren't available during these dates!
Find out more about the fifth season of the Intel Extreme Masters
ESL Aequitas Anti-Cheat
Our own Anti-Cheat client ESL Aequitas is mandatory for all Intel Extreme Masters matches including the national cups. Check out our
Aequitas Portal
to find out more about ESL Aequitas.
Global Sign-up Rules
- The team has to always use a majority (3) of players with their main residence of the country (not region) they want to sign-up for
- No player can participate in more than one of the cups
- The cups are run in a very short period of time, and therefore we cannot allow delays due to teams or players on holiday, or similar issues
- Depends on the sign-ups for a country it could be possible to play more then one match per day
- Each team should have a suitable ESL teamaccount (Shorthandle, Logo, Homepage, Contactdetails, Headquarter)
- Each team member should have a suitable ESL playeraccount (Full Name, Photo, Age, SteamID, Contactdetails)
Help!
If you have any problems or questions,
please write a support ticket!
crtmN
, Tuesday, 07/09/10 06:56


Information:
info write comment not allowed