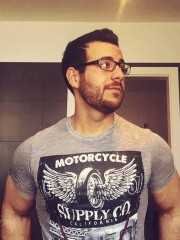 Contacts & Buddies
Amirelli
Any Given ..

jangeru

Wetter

Silber
Pi Red
Name
Claudio Giovanniello
Nick
solu
Member since
26/02/05
Age / Gender
31 Years / male
Territory, City
Germany, Alsbach-Hähnlein  

(64xxx)

Occupation
Interactive Media Design
Main team
The Last Resort CoD4 EPS
Homepage
--
"The Usain Bolt of CoD4" . "motivates his team like nobody else" . "He makes the most awkward clutches situations look easy!" . "Brilliant gamer, just epic" . "the smartest and most influencial smg" . "The gob b of call of duty" . "the most annoying smg to play against" . "CoD4's best aiming smg"
Level & Awards
Clubs
Visited Events
Contact