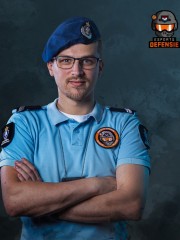 Contacts & Buddies
B33N
Doopz<3
VampireLad..
enoxzr

GLOWIXZ

bluEz
Name
Paul Polling
Nick
Xtreem
Member since
28/11/06
Age / Gender
28 Years / male
Nationality
 Netherlands
Country, City
Netherlands, Breda  

(48xxx)

Occupation
Militair
Employer / University / School
Defensie / Koninklijke Marechaussee
Main team
Regez Gaming .CoD4
Homepage
https://www.twitch.tv/esporter..
Streamer of competitive and casual games on the PC. Make sure you follow my Twitter, Facebook, YouTube and Twitch for the latest streams, VOD's and giveaways!  more...  
Level & Awards
Clubs
Recent matches
  TrackMania Nations Forever 1on1 Roparun tournament by Cooler Master
loss
4202188 

0

Sunday, 29/05/11 12:00
0
win
(bye) 
Sunday, 29/05/11 11:00
0
win
(bye) 
Sunday, 29/05/11 10:00
0
  Europe FIFA 11 (PS3) 1on1 Winter Cup
loss
Kiezlegende 

0

Sunday, 30/01/11 13:00
0
win
MAN1AX_K 

+2

Wednesday, 26/01/11 13:00
0
win
3897543 

+2

Saturday, 22/01/11 13:00
0
loss
3696435 

0

Monday, 10/01/11 13:00
0
Contact