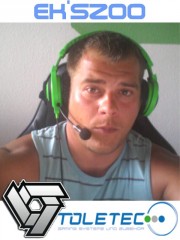 Contacts & Buddies

eBAT

PTIY

Gravity

Hunter fig..
I SIzZLa I..

nigHtm4rE
Name
Marco Fischer
Nick
eXo
Member since
13/04/06
Age / Gender
33 Years / male
Nationality
 Germany
Country, City
Germany, Darmstadt  

(64xxx)

Occupation
Marketing-/Sales-Manager
Employer / University / School
Online-Marketing
Main team
TOLETEC.de * VISA.Saturn
Homepage
http://www.toletec.de
Level & Awards
Teams
Clubs
VS. Placements
Season 1 2018 (15/03/18 09:00)
This player doesn't have a VERSUS ranking in the current season.
Leagues & tournaments
CS:GO Open Ladder 3on3 Europe
10.
challenge! 

0/5

4-0-2  Streak +1    1060
Recent matches
  Germany Gears of War 3 (360) 1on1 Opening Cup
loss
Pinkyy 

0

Thursday, 15/12/11 14:00
0
loss
3991280 

0

Saturday, 10/12/11 14:00
0
win
CoMpleXz 

+2

Wednesday, 30/11/11 14:00
0
win
2912728 

+2

Sunday, 20/11/11 14:00
0
win
(bye) 
Thursday, 10/11/11 14:00
0
win
teh 

+2

Monday, 31/10/11 15:00
0
  Europe Gears of War 3 (360) 1on1 Opening Cup
loss
Arm4geDoN 

0

Monday, 05/12/11 14:00
0
loss
Pinkyy 

0

Wednesday, 30/11/11 14:00
0
win
PLexX 

+2

Sunday, 20/11/11 14:00
0
win
BERRY MoMo 

+2

Thursday, 10/11/11 14:00
0
Gather statistics
Game
1on1
2on2
Team
All
3
4
796
803
Counter-Strike: Source
0
0
64
64
Counter-Strike
2
4
732
738
Counter-Strike: Global Offensive
1
0
0
1
Contact