Archive ESL Europe Germany Guild Wars
Double Click vs Storm Bearers im Overall Finale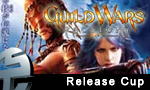 Nach langen Wochen spannender Matches, stehen wir nun am Ende des Guild Wars 8on8 Factions Release Cup. Am vergangenen Sonntag, wurde das vorletzte Match im Finale des Loserbrackets zwischen The Bulgarians und dem finnischen Vertreter Strom Bearers ausgetragen. Wie verlief das Match ? Welches Team wahrte die Chance auf den Turniersieg ? Alle Infos gibts hier.
Nachdem das Team der

Storm Bearers
in der vorletzten Woche
kampflos
gegen Ihre Landsmänner

No Clue
ins
Loserbracket Finale
einzogen, wurde am vergangenen Sonntag den Finnen wieder alles abverlangt. Im
Loserbracket Finale
wartete die Gilde

The Bulgarians
, die sich zum ersten mal im
Winnerbracket Finale
gegen das Team

Double Click
geschlagen geben mussten.
Auf den Maps
"Druid´s Isle"
und
"Warrior´s Isle"
lieferten sich die beiden Kontrahenten

Storm Bearers
und

The Bulgarains
am vergangenen Sonntag, nun einen packenden Kampf um den Einzug ins
Overall Finale
des
Guild Wars 8on8 Factions Release Cup
. Mit einer starken Leistung konnte sich schliesslich das
finnische Team
durchsetzen und gewann beide Maps mit
2:0
.
Somit treffen die

Storm Bearers
im
Overall Finale
erneut auf die Gilde

Double Click
, mit denen Sie noch eine Rechnung nach der Niederlage im
Winnerbracket Halbfinale
offen haben dürften.
Für das bulgarische Team sollte sich der Schmerz über die Niederlage dennoch in Grenzen halten. Mit einer konstant starken Leistung, sicherten Sie sich den 3. Platz im Turnier. Sie dürfen sich nun neben dem Eintrag in der
Hall of Fame
, einem
Award
in
Bronze
noch über
8 Fatcions Assassine Mini Aufsteller
und
8 Factions Poster Ritualist/Assassine freuen
. Gratulation zum dritten Platz an das Team

The Bulgarians
.
Somit steht nun nur noch das
Overall Finale
aus, das in den nächsten Tagen zwischen

Double Click
und

Storm Bearers
ausgtragen wird. Sobald wir wissen wer sich den Turniersieg sichern konnte, werden wir euch darüber informieren.



Match of the week

Sunday, 30.07.2006 09:00pm CET | Status: closed

The Bulgarians
Storm Bearers
Result:
[ 0:2 ]
Guild Lineups
Yoodan Vranx, Urg Sister, Bg Nato, Thrall of Mind, Evolution Miss, Morale Boost, J Black, U Li
I Angelique I, Mira Mezarin, Zirkon Flex, Thuska goes PvE, Mocca Mezmer, ABLIN, Munk von Morttix, Serenity Flamefirst
Location

588254
, Wednesday, 02/08/06 11:15

No comments yet.

Information:
info write comment not allowed