Archive ESL Europe Germany League of Legends
Go4LoL - Mai 2011 - 1000 Euro Preisgeld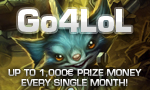 Die heißeste Cup Series in League of Legends startet jeden Sonntag um 14 Uhr und nennt sich Go4LoL. Nun ist es an der Zeit die Gewinner des Mais vorzustellen. Es war ein spannender Monat in Go4LoL, viele neue Teams haben sich in die oberen Plätze dieser Cup Series gespielt. Jeder ist Eingeladen auch den nächsten Monat, mit seinem Team, an den Go4LoL Cups teilzunehmen.
Der Mai hatte 5 Cups mit 5x
100 € Preisgeld
, alle Teams die es in die Top 16 eines Cups geschafft haben, haben wichtige Rangpunkte erhalten. Die Top 8 eines jeden Monats spielen um
500 € Preisgeld
. Das Monatsfinale für den Monat Mai findet am
Donnerstag, den 23.06.11 ab 19 Uhr
statt.
In dieser News findet ihr alle Gewinner des Monats Mai der
League of Legends Go4LoL 5on5 Cup Series
, zudem seht ihr den Endstand des Rankings für den Monat Mai, die Top 8 Teams des letzten Monats werden um
500 € Preisgeld
spielen, die das Gewinner Team
mit nach Hause nehmen wird
.
Go4LoL Monatsranking - Mai 2011
Go4LoL Cup #42
Ihr könnt euch weiterhin für die Go4LoL Cup Series anmelden, der 42. Cup findet kommenden Sonntag um 14 Uhr statt, vielleicht schafft ihr es auch euch
100 Euro
zu erspielen, wenn ihr den Cup gewinnt. Schaut für alle Infos in diese
News
oder schaut beim
Go4LoL Portal
vorbei, um alle weitere Details zu erfahren. Im Monatsfinale vom Mai gibt es wieder die Chance
500 € Preisgeld
zu gewinnen! Nehmt an den Sonntags Cups teil, sammelt dort Rangpunkte für gute Platzierungen und spielt wie jeden Go4LoL Sonntag um
100 € Preisgeld
und um
500 € Preisgeld
im Monatsfinale.
Euer


Admin Team


Information:
info write comment not allowed