Archive ESL Europe Germany League of Legends
Go4LoL #41 - gewinnt 100 Euro!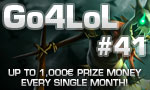 Der nächste Cup der Go4LoL Cupseries startet am kommenden Sonntag. Du kannst mit deinem Team 100 Euro gewinnen! Die Top 16 Teams erhalten zusätzlich wichtige Rangpunkte für das Monatsfinale mit 500 Euro Preisgeld. Meldet euch jetzt an und verpasst diese Chance nicht!
Go4LoL #41:

Anmelden!

(Check-in: 13:40 - 14:00 Uhr)
Check in, ist "first come, first serve".
Also schaut, dass ihr euch Rechzeitig eincheckt.

Anmelden bis 13:40 Uhr
Datum: Sonntag, 12. Juni
Start: 14:00 Uhr
Größe: 128/256 Teams
Struktur: Single Elimination

Grundregeln:

Map: Summoners Rift
Teamgröße: 5on5
Modus: Best of One
Pick Mode:
Exclusive Open Pick
(Snake Pick)
Ban Mode: 1-1-1-1-1-1

Tipps zur Anmeldung:

In der ESL anmelden
LoL Summoner Name (Ingame Name) als Gameaccount angeben.
Eine Kontaktmöglichkeit angeben (ICQ, Skype, etc.)
Team gründen. (Im Command Center)
Für den Cup anmelden!


Schaut in die Cup Details für alle Informationen.
Dieser Cup endet nach dem Viertelfinale. Das Halbfinale und Finale werden am Dienstag, den 14.06.11 ab 20 Uhr ausgetragen
Cup Regeln

Spieler Disconnects:
Nach einem Spieler Disconnect wird das Spiel fortgesetzt. Der Spieler sollte versuchen so schnell wie möglich wieder zurück zu kehren und weiter spielen.

Lineup:
Bitte tragt in jedes Match euer Lineup ein.

Screenshot Pflicht:
Nach jedem Match muss ein Screenshot vom Ende der Runde ins Match hochgeladen werden.
Euer


Adminteam


Information:
info write comment not allowed