Archive ESL Europe Germany Guild Wars
Der siebte Spieltag steht bevor!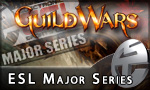 Der Spielplan ist eng, die Zeit ist knapp und unsere Offline Finals rücken immer näher. Somit erwartet uns auch in dieser Woche wieder eine so genannte "englische Woche" und unsere Teilnehmer müssen bereits heute ihr Können unter Beweis stellen. Wir wünschen ihnen auch an unserem siebten Spieltag viel Glück und Erfolg.
Spieltag 7
Hier ein Überblick der ESL Major Series Spiele in Guild Wars. Die Entscheidungsmap in dieser Woche ist die
Nomadeninsel
.
14/10/08 20:00


We Want Cookie vs. Revive Teammates
Details
14/10/08 21:00


Rebel Rising vs. Dont Mess With The Don
Details
14/10/08 21:00


Bruderschaft der Verdammnis vs. Straight Outta Kamadan
Details
14/10/08 20:00


Steel Phoenix vs. Stealing Society
Details
Eine Übersicht aller bisherigen Ergebnisse könnt ihr
hier
finden.
Offizielle Partner


//Your


Admin Team


Information:
info write comment not allowed