Archive ESL Europe Germany Guild Wars
Der fünfte Spieltag!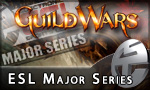 Auch in dieser Woche haben wir wieder eine schlechte Nachricht zu verkünden. Die Gilde Esoteric Warriors hat sich leider aus der Guild Wars EMS Season III verabschiedet und wird nicht weiter daran teilnehmen. Wir wünschen ihnen viel Erfolg auf ihrem weiteren Weg, aber auch unseren verbleibenden Teilnehmern wünschen wir viel Erfolg für den fünften Spieltag und hoffen wieder auf viele spannende Kämpfe!
Spieltag 5
Hier ein Überblick der ESL Major Series Spiele in Guild Wars. Die Entscheidungsmap in dieser Woche ist die
Vereiste Insel
.
02/10/08 20:00


Whats Going On vs. Revive Teammates
Details
02/10/08 20:30


Bruderschaft der Verdammnis vs. Dont Mess With The Don
Details
05/10/08 20:00


Rebel Rising vs. Straight Outta Kamadan
Details
07/10/08 20:00


Steel Phoenix vs. Anonymous Amateurs
Details
Eine Übersicht aller bisherigen Ergebnisse könnt ihr
hier
finden.
Offizielle Partner


//Your


Admin Team


Information:
info write comment not allowed