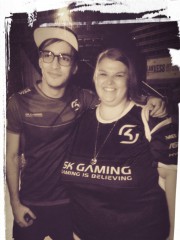 Contacts & Buddies
Danilo.L
Draktura

Karo_ateAb..

superMarth

Lich Queen

mnu
Name
Jenny 
Nick
angeleyes
Member since
13/06/01
Age / Gender
34 Years / female
Nationality
 Germany
Country, City
Germany, Pforzheim  

(75xxx)

Occupation
Erzieherin
Main team
Brother and Sister <3
Homepage
--
Wir müssen das Leben loslassen das wir geplant haben, damit wir das Leben leben können das uns erwartet - Joseph Campbell ~ღ~
Warte nicht auf den perfekten Moment. Nimm dir einfach einen und mach ihn perfekt
more...
Level & Awards
Teams
Clubs
VS. Placements
Season 1 2018 (15/03/18 09:00)
This player doesn't have a VERSUS ranking in the current season.
Leagues & tournaments
Recent matches
  Staffcup 2018 #06 - Haxball
win
(bye) 
Today, 26/04/18 14:20
loss
Diego98 

0

Today, 26/04/18 14:00
  Intern

| | | | |
| --- | --- | --- | --- |
| loss | FireBeam  | Friday, 30/03/18 16:00 | |
| loss | PixelDust  | Friday, 30/03/18 15:30 | |
| win | iceCalt  | Friday, 30/03/18 15:00 | |
| loss | Senpaii  | Friday, 30/03/18 14:30 | |
| win | Blake  | Friday, 30/03/18 14:00 | |
  Intern

| | | | |
| --- | --- | --- | --- |
| loss | Rozakos  | Saturday, 17/02/18 10:00 | |
| loss | Gicminos  | Saturday, 10/02/18 10:00 | |
| loss | Herlex  | Saturday, 03/02/18 10:00 | |
Gather statistics
Game
1on1
2on2
Team
All
0
0
89
89
Counter-Strike
0
0
5
5
Left 4 Dead
0
0
1
1
Counter-Strike
0
0
83
83
Visited Events
Contact