Thursday, 15/11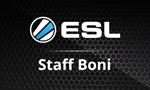 ESL Play
As the Halloween decorations come down and Christmas rolls ever closer, we at ESL would like to congratulate the following on winning the Staff Boni:
Friday, 20/02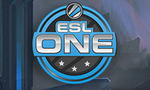 Friday 20/02/15 05:00 by
Soodi
Archive ESL Europe Germany
Das weltweit größte Counter-Strike: Global Offensive Turnier wird dank einer Partnerschaft zwischen der LANXESS arena und der ESL, dem weltweit führenden eSport-Unternehmen, dieses Jahr in Deutschland abgehalten. Normalerweise fungiert die mit 15.000 Sitzen ausgestattete LANXESS arena unter anderem als Stadion des Eishockey-Teams der "Kölner Haie", jedoch wird sie in diesem Falle am 22. und 23. August die 16 besten Teams des beliebten Taktik-Shooters beheimaten.
Friday, 19/12
Archive ESL Europe Germany
Die Sommer Saison endet am 14. Januar 2015 und darauf folgt die Frühlings Saison. Wir sind froh, euch mitteilen zu können, dass die neue Saison auf der neuen Webseite play.eslgaming.com starten wird!