Archive ESL Europe Germany Dawn of War II: Retribution
1on1 Beta Opening Cup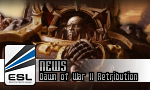 Nachdem die Beta nun einer breiteren Masse zugänglich ist, wird es Zeit für einen entsprechenden ESL Cup, den wir an diesem Sonntag veranstalten. Noch nicht in der Beta? Keine Sorge, wir erklären, wie du daran teilnehmen kannst.
Beta Fakten
Lange Rede, kurzer Sinn, hier die wichtigsten Fakten zur Beta:
Dawn of War II: Retribution Beta Fakten
Zeitraum
Features

Sechs Multiplayer Fraktionen - inklusive der neuen Fraktion: die Imperiale Armee
Neue Einheiten
Neue Multiplayer Maps
Steamworks (inklusive neuen Matchmaking und Netzwerk Features)
Teilnahme
Um einen Beta Key zu erhalten müsst ihr nur den Schritten auf der
offiziellen Dawn of War II Seite
folgen.
1on1 Beta Opening Cup Details
Hier die Details zum Cup:
1on1 Beta Opening Cup
Teilnahme-Bedingungen

Gameaccount: eingetragene SteamID DoW II: R (Ein einfacher Weg, an deine SteamID zu kommen ist, diese Seite - trag deine ID dann ohne das "STEAM_" vorne ein.)
Regeln: Regeln wurden gelesen & akzeptiert


Informationen

Cupmodus: Single Elimination
Playerslots: 32
Spielmodus: 1v1
Matchmodus: bo3
Mapwahl: Jeder Spieler wählt eine Homemap. Wenn es nach beiden Maps 1:1 steht, wird die Decidermap gespielt.
Startdatum: Sonntag, 13/02/11 16:00 CET
Time/Runde: 1.25 Stunden
Checkin: Von 30 Minuten bis 20 Minuten bevor der Cup startet

Mappool

Green Tooth Jungle
Siwal Frontier
Green Tooth Gorge
Calderis Refinery
Leviathan Hive
Outer Reaches
Quests Heresy
Ice Station Obelis
Judgement of Carrion

Hilfe & Support
Signup
Viel Spaß!


Tretet unserer Steam Gruppe bei!
Euer


Admin Team
Imbaer
, Friday, 11/02/11 05:53


Information:
info write comment not allowed