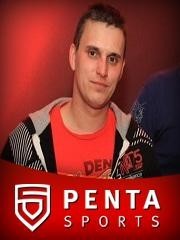 Contacts & Buddies

EslBesterL..

r0man.de
Scriptum

Amy

MingSzu

KrieppeN
This player account is frozen and can not generate any 1on1 matches (challenge) or be generated (be challenged/Auto-challenger). Open 1on1 and 2on2 matches may be played, the player may however not compete in any other team matches. See below for details on the freeze.
Name
Sascha Schade
Nick
LeadeD
Member since
29/07/03
Age / Gender
37 Years / male
Nationality
 Germany
Territory, City
Germany, kiel  

(24xxx)

Occupation
Event-Manager, German Army
Employer / University / School
Selbstständig/ Bundeswehr
Main team
--
Homepage
http://www.PENTA-Sports.com
Gaming- History:
xtremly Demented Kids by SONY BMG --- soul Almighty by SONY BMG --- identity.Gaming(iNSANE) --- identity.Dreamin by sennheiser --- spreading Death by sennheiser --- man1a- Gaming by qpad --- Lucror- Gaming by AMD --- COREPLAY Thermaltake --- LogiX e.V ---  more...  
Level & Awards
Clubs
lock
| | |
| --- | --- |
| | Please contact the support |
Contact