Archive ESL Europe Germany Call of Duty 4
Call of Duty 4 Bundesliga: letzte Chance – vorbei!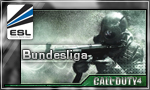 Gemäß dem Motto einer populären Kinderquizshow, starten wir unseren letzten Qualicup! Wir nähren uns somit mit grossen Schritten dem Start der ESL Call of Duty 4 Bundesliga 2011! Doch bevor es losgeht müssen noch die letzten 2 Plätze besetzt werden! Dies ist die letzte Chance für euch um die insgesamt 1500 € Preisgeld zu qualifizieren. Also auf zur Post, am besten noch heute, euren E-Postbrief verifizieren und los gehts! Meldet euch an und sichert euch einen der letzten beiden Slots!
Call of Duty 4 Bundesliga Qualifikationscup #5
Call of Duty 4 Search & Destroy 5on5 Bundesliga Qualifikationscup #5

Slots
jenach Anmeldungen
Vorrausetzungen
Trusted Pro
5 eingetrage CoD4 GUID's
Teamkürzel
repräsentatives Teamlogo
Mindestens 5 Spieler aus Deutschland
Spielmodus
Suchen und Zerstören (sd)
Promod Modus
/rcon promod_mode match_mr12
Mapwahl
Mapelimination - BO3
Mappool
mp_backlot
mp_citystreets
mp_crash
mp_crossfire
mp_strike
Runden

Runde 1: 05.09.11 21:00
Runde 2: 06.09.11 21:00
Runde 3: 08.09.11 21:00
Runde 4: 11.09.11 21:00
Einschreiben!
Für die weiteren Bundesligaqualifikationscups könnt ihr mal im allgemeinen
Trusted Pro Portal
vorbei schauen. Dort habt ihr jeweils den nächsten Qualicup und das Extraportal nur von
Call of Duty 4
.
Eure E-Postbrief Adresse in 3 Schritten

Exklusive Playercard für Trusted Pro

1. Online auf
www.epost.de
registrieren

2.
POSTIDENT-Verfahren
durchführen

3. Freischaltung und
E-POSTBRIEF
nutzen
Um anschließend Trusted Pro zu erlangen, werden die Adressdaten eurer
E-POSTBRIEF
Adresse mit euren angegebenen Daten abgeglichen. Die Anmeldung für den Trusted Pro Status findet ihr in euren Einstellungen unter
Trust-Level erhöhen
.
Gebt bei der Registrierung eurer
E-POSTBRIEF
Adresse den Aktionscode "ESLTRUSTEDPRO" an, um automatisch am
Gewinnspiel
der Deutschen Post teilzunehmen.
Für weitere Fragen und Antworten haben wir eine
Übersichtsseite
zur Trusted-Umstellung sowie das neue Trusted Pro mit dem
E-POSTBRIEF
der Deutschen Post erstellt.
Wir wünschen euch viel Spaß und Erfolg bei den Cups und freuen uns auf eure Teilnahme. Bei Fragen oder Problemen mit dem Turnier könnt ihr uns jederzeit im
Support
erreichen.
Euer
Admin Team
K0rN
, Wednesday, 31/08/11 20:02


Information:
info write comment not allowed