Archive ESL Europe Czech Republic & Slovakia Vietcong
!IMPORTANT! Rules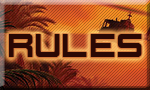 There are some new and some old rules but a few of the eu players didn't recognize this rules. We have to give PP's or bans for all players which are playing but didn't change their profile.

For more information read the text below.
Check your profile for the following points
● Set Vietcong ID in Gameaccounts (Vietcong ID = UAC3 ID)
Please change your Gameaccount of Vietcong and take your UAC3 ID as value. For example
THIS
. Some of you are still using your Cheat Eye ID or they got no gameaccount at all.
● All comments must be in English language
The comments in this league must be in czsk(it's still czsk league!) or for all EU players in English. We saw some German and other language comments on some matches. Please don't continue this or we have to give PP's for that.
Additional
G*lost*ER contacted the czsk support for an english forum in this section. Thanks for this!
Your
Admin Team


Information:
info write comment not allowed