Archive ESL Europe Benelux ESL Pro Series Season 2 Warcraft 3
Grubby wins EPS offline finals! (updated)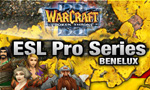 Yesterday the ESL Pro Serie (EPS) finals in Amsterdam resulted in a win for Grubby. He managed to take down his big dutch opponent Rotterdam in a stage match.
In Tuschinski, Amsterdam, the players played their first matches in private, then joining the film premiere of the film 'Beyond the Game'. At the end of the film the final match between Grubby and Rotterdam was played on stage. After the matches there was some space for the real warcraft III visitors to join the top and observe the match for the third place.
The Results
Due the absence of the player

614399
we had the runner up to take his spot, which is:

2578811
Round one
Grubby 2 - 0 Izi
Rotterdam 2 - 0 Sushilicious
Match for third place
SushiLicious 1 - 2 Izi
Finals
Grubby 2 - 0 Rotterdam
The final results of the this EPS season are as follow:
#1

Grubby
#2

RotterdaM
#3

820633
#4

2578811
-----------------
#5

614399
#6

ArminvB
#7

714388
#8

1782158
For a visual overview of the EPS finals we advice you to take a look at the
brackets
.
Next year EPS
The ESL Pro Series for warcraft III the frozen throne will be back next year. With having the top of the current EPS, and a player from the EAS, and a qualifier cup, we have some changes in the next years player list for the EPS.
The players for next year EPS are:

Grubby
(auto qualified)

RotterdaM
(auto qualified)

820633
(auto qualified)

2578811
(auto qualified/qualifier cup)

(
614399
)((auto qualified))

ArminvB
(qualifier cup)

1782158
(qualifier cup)

1380953
(Best EAS player)
The reason for Beez being put (unsure) in the list is because he can be disqualified for not showing up at the EPS finals. A final answer on that will be given by the Head Admins of ESL later this week.
Congratulations to everyone in the EPS for beloning to the best of the Benelux. We hope to see you all keep participating on ESL!
*note*
All replays will be uploaded later today!
All replays are uploaded!
Update
Photos of the event can be found
here


Information:
info write comment not allowed