Archive ESL Europe Benelux Quake Live
Quake Live Autumn Cup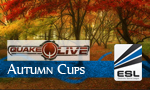 We are glad to announce our first long-time event: the autumn cup 2010. If you are looking for some entertainment this autumn, this is the chance for you. We will host autumn cups in almost all of our games. This will take place during the next weeks and provides our popular autumn cup award for the winners.
The Quake Live Autumn Cup
We're glad to present the Quake Live autumn cup. The cup will be played 1on1 featuring both a group phase and a playoffs bracket. Everyone is allowed to sign up and participate in this league. Sign up is possible until this thursday.
Sign up now!
The prizes
On the left side you can see the famous and exclusive Autumn-Award that will be available for the winner of the tournament. This award can only be gained trough the autumn cup series! Of course we will offer you some premium accounts as well:


First place
: Premium account amounting to 3 months

Second place
: Premium account amounting to 2 months

Third place
: Premium account amounting to 1 month
Sum
, Sunday, 24/10/10 08:46

No comments yet.

Information:
info write comment not allowed