Archive ESL Europe Benelux Quake Live
ESL Amateur Series - New Season!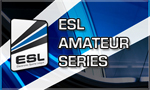 Next Sunday we will kick off with a new season of our Amateur Series! The Amateur Series is the first step towards the Professional Series! In the Professional Series the best players from Benelux play for some desirable prizes. If you have what it takes to belong to the best or you just want to have some fun, do not hesitate to sign up! This season will be a short one, so taking part in it will bring you one step closer towards EPS within no time!
ESL Amateur Series
Sign up!

(Players who signed up!)
Take part now, to qualify within no time!


Sign up until 08/09 23:00CEST
Date: Sunday, 12th September
Start: 20:00 CEST
Size: no limit
Structure: Premiership

Basic rules:

Maps: Official Maplist
Map2Play: Map Elimination after pummel
Mode: Best of One
Match Media: demo or endscore screenshot


EAS Info:

You play everyone once
Matches are played within 2 weeks
First qualifies for EAS 1st Division
2-4 play qualifiers



Timeline
i. Sign ups open till 08/09 23:00CET
ii. First match(es) scheduled for Sunday 12/09
iii. Last match(es) scheduled for Wednesday 22/09
iv. Sunday 26/09 qualifiers take place to go to the 1st Division
v. Begin October, new start of a 1st Division Season
This means you can be one step away of EPS within less than one month!
Private servers can be spawned by asking an admin on #esl.blx.quakelive (Quakenet)

No comments yet.

Information:
info write comment not allowed